A project we started in the 1990s...
Doctoral Dissertations in Musicology On-Line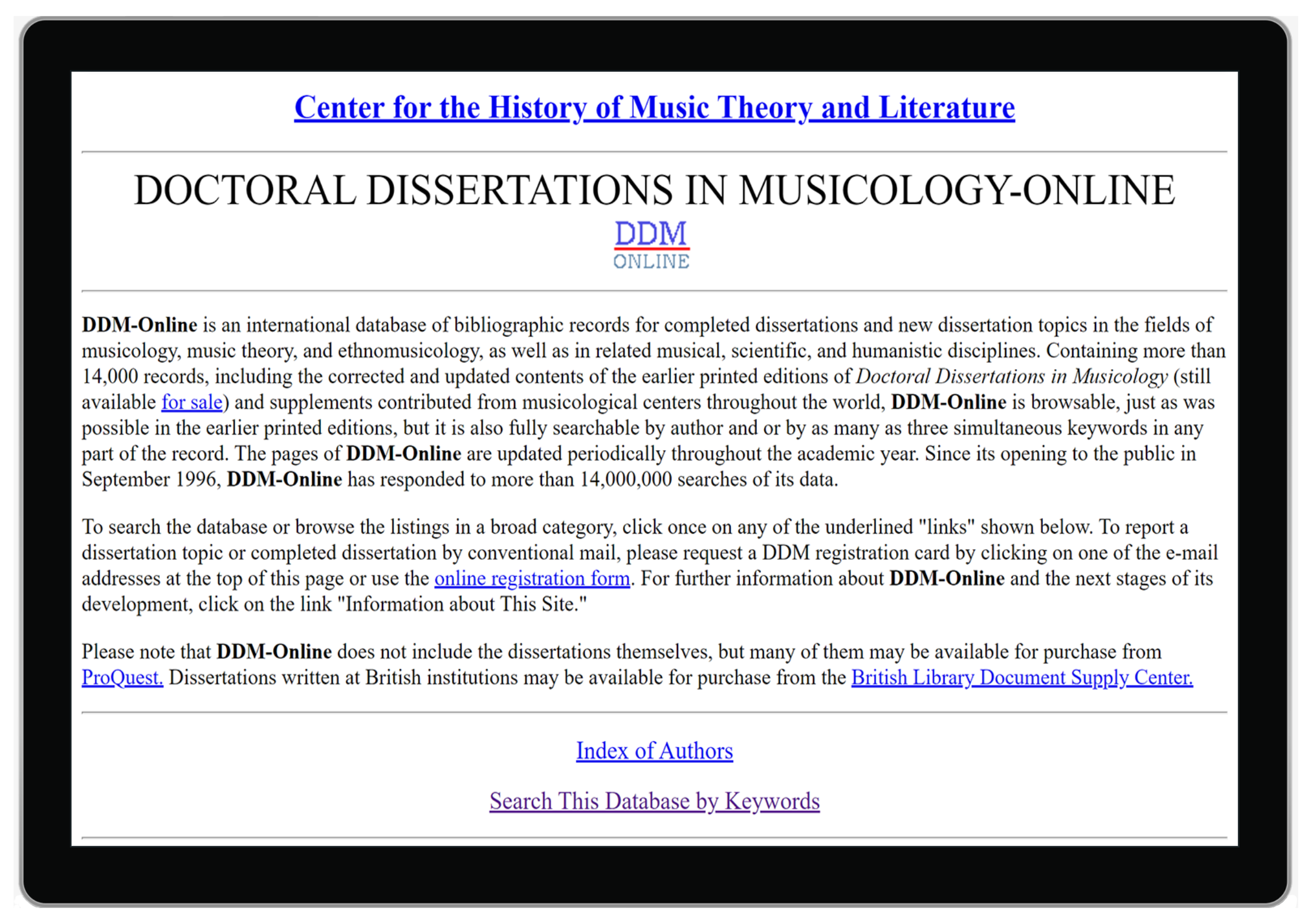 In the Fall of 1996 (prior of the creation of the CHMTL center), the team of the Thesaurus Musicarum Latinarum released the first online edition of a resource well-known to musicologists, the Doctoral Dissertations in Musicology.
Under the direction of Thomas J. Mathiesen, all the records of new dissertation topics and completed dissertations published in print from the inception of that project (1952) were converted, updated, and incorporated into a purpose-built database and made available online.
Since then, and after the creation of CHMTL, we have continued gathering information about new dissertations and to provide free access to this important and venerable reference tool to scholars worldwide. (See a snapshot from the Internet Archive). In 2009, the DDM-Online was handed over to the American Musicological Society where it is currently maintained.
Doctoral Dissertations in Musicology began in 1952 as a publication of the Joint Committee of the Music Teachers National Association and the American Musicological Society, chaired by Helen Hewitt. For many years thereafter, Dr. Hewitt maintained and expanded Doctoral Dissertations in Musicology through its 4th (1965) edition, with various supplements published in the Journal of the American Musicological Society and in the American Music Teacher. Cecil Adkins edited a 5th edition in 1971 and a newer International Index of Dissertations and Musicological Works in Progress in 1977. In 1984, under the co-editorship of Cecil Adkins and Alis Dickinson, the 2d "international" edition returned to the original title Doctoral Dissertations in Musicology, and a new cumulative edition was published in 1996. 
In the mid-1990s, the Board of Directors of the American Musicological Society decided to move away from conventional publication of DDM in favor of electronic distribution. The AMS Committee on Technology discussed the issues at its meetings in 1994 and 1995, and eventually endorsed a proposal from the Thesaurus Musicarum Latinarum at Indiana University to develop the first version of the DDM-Online.